PowMr Wifi Module Wireless Remote Monitoring Is Off Grid Solar Inverter Charger
Welcome to visit PowMr
Features:
Wireless Remote Monitoring
MPN: WIFI-HVM-P1
Voltage: N/A
Output Type: Single
Colour: Black
Model: Wifi Module
Output Power: 1 - 200KW
Output Frequency: 50/60HZ
Charging Mode: MPPT (Maximum Power Point Tracking)
Application: Home/Garden
Current Rating: N/A
Current Type: DC
Current Output: N/A
Power: N/A
System Configuration: Hybrid
Resistance Properties: N/A
Brand: POWMR
Inverter Technology: Hybrid
Can Use: POW-HVM5.5K-48V-P, POW-HVM5.5K-48V
Type: Solar Inverter Wifi Module
Power Source: Solar
UPC: Does not apply
Package include:
1*WIFI Module + Communication cable ( Only )
Please Note: This Wifi Can Be Used For Our Product Only
Note: This link does not have Solar Inverter
Use for POW-HVM5.5K-48V-P, POW-HVM5.5K-48V solar inverters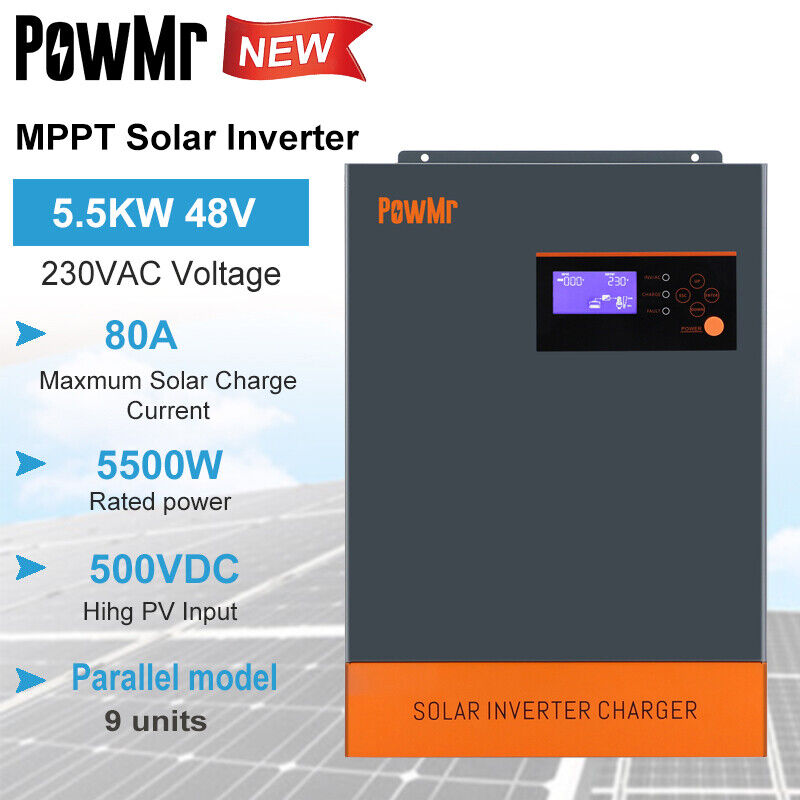 PaymentDelivery detailsTerms
type
POW 300
POW 500
Rated Output Power
300W
500W
DC Input
DC/Solar/Car Charging Port
10.8 - 23.5V 3A
10.8 - 24V 5A
Type-C + DC Charging Port
/
PD100W + DC100w
AC Output
Output Waveform
Pure Sine Wave
Pure Sine Wave
Rated Output Voltage
220V.
220V
Output Frequency
50/60Hz
50/60Hz
Overload Capacity
340 - 360W
/
Peak Power
/
1000W
Battery
Nominal Voltage
12.8V
19.2V
Battery Electricity
320Wh
518Wh
Nominal Capacity
25000mAh
27000mAh
Cycle Life
2000 times
2000 times
Charging Current
4.8A (Recommended value); 12A MAX
/
Discharging Current
24A (Recommended value); 38A MAX
/
DC Output
Type-C1 Output
PD60W: 5V3A/9V3A/12V3A/15V3A/20V3A
PD24W
DC Output Voltage Range
12 - 14.4V
/
Type-C2 Output
PD30W: 5V3A/9V3A/12V2.5A/15V3A/20V1.5A
PD100W
USB*2 Output
QC18W
QC18W
DC2/DC3/Car Charger Output
12-13.95V 10A
12V 10A
Max DC Output
168W
/
General Specification
Charging Temperature
0℃ - 40℃
0℃ - 40℃
Discharging Temperature
-5℃ - 40℃
-10℃ - 40℃
Dimension
240*158*138mm
245*200*182mm
Weight
6.5kg
6.5kg
Question:
Can this inverter be installed on its back Horizontally? I have a perfect place for it with plenty of ventilation but it would need to be laying down 48 volt 5 Kw all in one LVM5K
Answer:
It is not suggested that you install the inverter on its back Horizontally, it will make it inconvenient for you to operate the control panel. The user manual for your reference https://powmr.com/manuals/PowM...
Question:
In this configuration it will be easily accessible. As long as there's not an issue with the heat sinks working incorrectly or something else would cause a defect.
Answer:
Yes. You may choose the installation method according to your actual environment.
Question:
Answer:
Question:
Is it possible to access the data from this wifi module directly? I have built my own solar system controlling software and would like to integrate the data from my powmr device. Cheers
Answer:
You may use the APP to monitor the data through the wifi module, but one wifi module can only monitor the data of one inverter.
Question:
So, I can't access the raw data over udp, http, socket or similar?
Answer:
This inverter model only support wifi module
Question:
That's what I am asking... Can I access the raw data that originates in the inverter from the wifi adaptor without using the app.
Answer:
Sorry, it does not work, only supports reading the data via the app.
Question:
So what protocols does the app use to read the data?
Answer:
RS232. The protocol for your reference https://docs.google.com/docume...
Question:
Hi, Since we are talking about the wifi module, I take it that the wifi module uses Modbus TCP? Also what tcp port does it utilise? Cheers
Administrator reply

Hello, our service will contact u soon.
Administrator reply

Our service will contact u soon.
Administrator reply

Our service will contact u soon.
Administrator reply

Our service will contact u soon.
Administrator reply

Our service will contact u soon