SKU: WIFI-HF
PowMr Wifi Module - Wi-Fi Plug07/WIFI-HF
---
Free shipping to most countries, please consult us if you have any questions.
2 year warranty inverters & controllers, 5 year warranty batteries, 15 year warranty solar panels.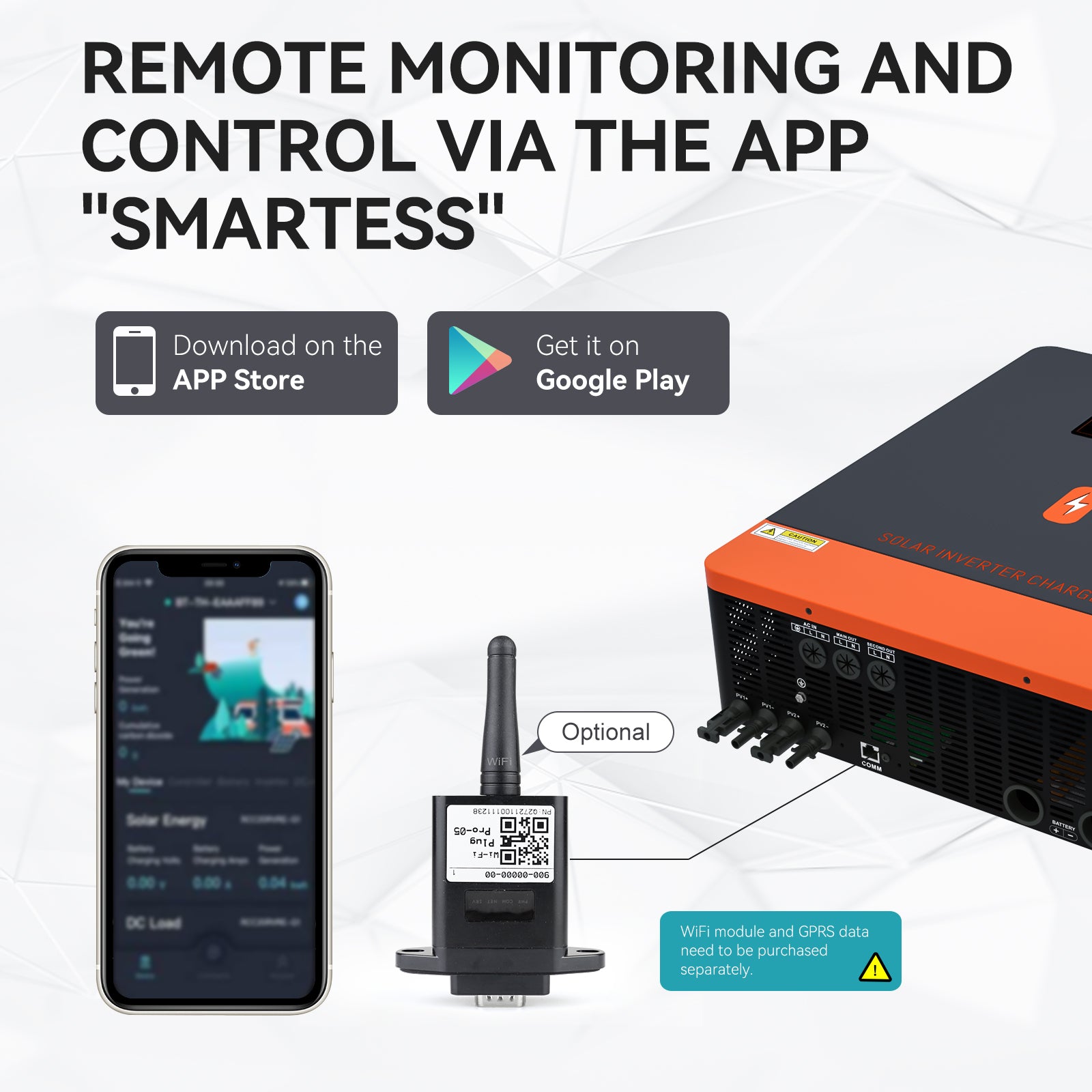 Step1. Installation
① Align the interface of the Wi-Fi Plug07 with the inverter and plug it in tightly.

② Confirm the status of the LED indicator (When you saw the green LED light turn on from the shell, showing the normal working status)

Note:
This WIFI module is only compatible with the inverter below:
POW-LVM3K-24V
POW-LVM3.5K-48V
POW-LVM5K-48V-H
POW-HPM5.6KW
POW-SunSmart SP5K
POW-SUNSMART 10K
POW-SUNSMART-5.5KW-48V
POW-SUNSMART-3.5KW-48V
Step2. Wireless Router Connection
2.1 Download APP and Wi-Fi connection

① Scan the QR Code on the guideline cover to download the APP.

② Connect your phone to the network "Wi-Fi Plug07 PN" (Password: 12345678).

2.2 Wi-Fi Config

① Open the APP and go to Wi-Fi Config.

② Tap Network Setting.

2.3 Network Setting

① Follow the prompts to complete the network setting.

② After the Wi-Fi Plug07 restarts, reconnect to the Wi-Fi network connected in step 2.1.
Step3. Create Account And Datalogger
3.1 Create Account

① Open the APP, tap the Register button.

② According to the prompt information, complete creating an account.

3.2 Add Datalogger

① Login to the account and click the list button on the bottom of the home page.

② Tap the "+" button on the top-right corner of the list page.

③ Scan the datalogger PN on the Wi-Fi Plug07, or input it manually.

④ According to the prompts, type in the information to finish adding the datalogger.
This product is rated 5.0 of 5.0 stars.
It has received 2 reviews.
Top Produkt. War alles richtig verdrahtet musste nur angeschlossen werden und mit etwas Geduld hat es sofort funktionier. Weiterhin ist der Support super hilfreich gewesen.
Nice product
The product is very nice and easy to use.
You should allow to get the same data view on web and not only via app.