Download the user manual in PDF version of PowMr inverter,
solar charge controller and wifi software.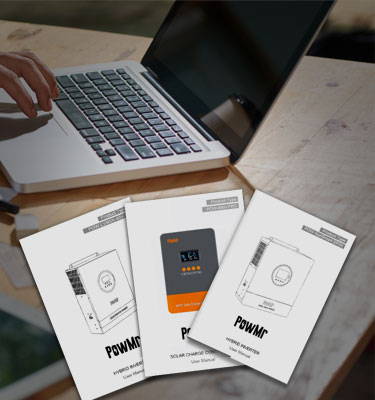 The following shows the manuals of PowMr's various items, if there are any omissions, please contact us.
Note:To enable inverter data monitoring, a separate WiFi module needs to be purchased. If you have any questions, please feel free to contact us.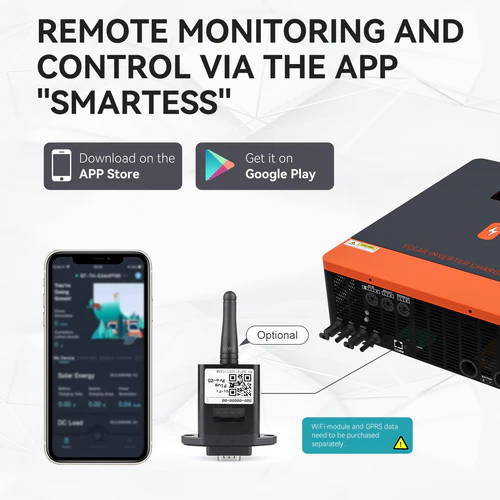 Users can also monitor device data using the "SmartEss" mobile app, available for download on the APP Store or Google Play.
The following inverter models are compatible with mobile phone data monitoring:
Hybrid Inverters:
POW-SUNSMART 10K
POW-SUNSMART-5.6KW-48V
POW-SUNSMART 5.5KW-48V
POW-SunSmart SP5K
POW-HVM10.2M
POW-HVM8.2M
POW-HVM6.2M-48V
POW-HVM4.2M-24V
POW-HVM3.6M-24V
POW-HVM5.5M
All in One Inverters:
POW-HVM3.0KW-24V
POW-HVM4.5K-24V
POW-HVM5.5K-48V-LIP
POW-HPM5.6KW
POW-LVM3K-24V-H
POW-LVM5K-48V-N
POW-LVM3.5K-48V
POW-VM5K-III
POW-MAX-8KW
POW-HVM1.5H-12V
POW-HVM3.2H-24V
POW-HVM5.5K-48V
iPower
The inverter listed below is fully compatible with the accompanying software, allowing seamless integration and optimal performance.
POW-SunSmart 10K
POW-SunSmart SP5K
POW-SUNSMART 5.5KW-48V
POW-SUNSMART-5.6KW-48V
POW-HPM5.6KW
POW-LVM3K-24V-H
POW-LVM5K-48V-N
POW-LVM3.5K-48V
PowerWatch / SNMP Web Management
The following inverters support compatibility with two software packages:
POW-VM5K-III
POW-MAX-8KW