PowMr 60A MPPT Solar Charge Controller 12V 24V 36V 48V Auto Solar Regulator with LCD Display MPPT-60A
PowMr 60A MPPT Solar Charge Controller 12V 24V 36V 48V Auto Solar Regulator with LCD Display MPPT-60A
Brand: PowMr
Product Name: HHJ-60A 48v solar charge controller
100% mppt charge controller Intelligent, Max efficiency ≥98.1%, PV utilization ≥99%
Built-in DSP controller with high performance automatic battery voltage detection 12V/24V/36V/48V
Battery options: Lithium, Lifepo4, Li(NiCoMn)O2), Vented, Flooded, Sealed, Gel, NiCd battery.
Dynamic large icon display PV and Battery status,working mode: Night mode, no charging, MPPT mode, Absorption mode, Floating mode and troubleshooting prompts.
TROUBLESHOOTING function and LCD display and can help users not only check the whole system operating data and statuses but also quickly identify system faults and modify parameters.
Blacklight LCD Dispaly PV voltage/output power/Battery voltage/charging current/working mode/Temperature
User programmable for absorption voltage/Floating voltage/Low voltage disconnect./Load Timer. Real-time energy recording.
Intelligence Fan-on temperature >45℃ and off < 40℃,Porous heat dissipation.and fan use BEARING technologies increase life UP TO 5000hrs in normal use.
Large four big button, easy to use, more conveniently.
HHJ-60A solar charge regulator Warming tips: Make sure the Voc of PV meeting the requirement as right. Voc is 1.5 times of Battery voltage will be the best efficiency.

Feature:
Charging 3-stage: constant current(mppt charger), constant voltage(Absorption Voltage), floating charge Selectable battery type Vented / Sealed / Gel / NiCd / Lithium battery (default is Sealed) (defined voltage for other battery by user)
Soft start time ≤1S, Dynamic response and recovery time 100us
Max efficiency ≥98.1%, PV utilization ≥99%
In order to reduce the cost of electricity caused by high current, PV and battery each have two terminals
MULTIPLE ELECTRONIC PROTECTIONS
Short-circuting
Reverse-current
Overcharging protection
Overload protection
Over-discharging protection
Reverse polarity protection
Tips:
Always connect battery first!!! Make sure enough batteries' voltage let controller recognize the right system voltage.
DO NOT connect any Inverter/ wind/ Alternator or Charger into the charge controller! connect the Inverter directly to the battery
Ensures solar input voltage higher 3V or more than batteries' voltage and total input power in the range. if input power is too low for max input power, it may be appears to have been discontinued., the charging current almost be zero when controller is floating charge.
Parameter Setting Rules:Floating voltage > Low voltage reconnect > Low voltage discharge.
The solar controller will stop output when the battery under 10.7V. The LCD will be blank when the battery under 8V and it will re-output when the battery up to the 12.6V (adjustable).
Install the Charger controller to the battery as close as possible. Tighten the wire.
When controller makes buzzing sound because of It's working hard to dissipate heat for your controller. Rest your heart, it will be stop when temperature return to normal.
Remove all the debris around the controller ( leaving a space of approx. 5.91in ).
Input specification:
12V system: DC20V~DC80V
24V system: DC37V~DC105V
36V system: DC50V~DC160V
48V system: DC72V~DC160V
The maximum PV input voltage (Voc): DC190V
(The controller can't work at this voltage of long duration that will break controller. Please refer to Input voltage from PV.)


The maximum PV input power
(The total power rated of PV can't be over this watt that will break the controller.)
12V system (720W) ;
24V system (1440W) ;
36V system (2100W);
48V system (2800W) 60 amp mppt charge controller ;
Output specification
Overcharging protection voltage:
12V system (15V);
24V system (30V);
36V system (45V);
48V system (60V);
Package including:
1XMPPT Solar Charge Controller
1XEnglish Manual
---
Models
MPPT-30A
MPPT-40A
MPPT-50A
MPPT-60A
Charging Model
3-stage: Constant Current(MPPT), Constant Voltage, Floating
MAX PV Input Power
12V System
360W
480W
600W
720W
24V System
720W
960W
1200V
1440W
36V System
1080W
1400W
1800W
2100W
48V System
1440W
1700W
2200W
2800W
Input Specification DC
12V System DC
20V-80V
20V-80V
20V-80V
20V-80V
24V System DC
37V-105V
37V-105V
37V-105V
37V-105V
36V System DC
50V-160V
50V-160V
50V-160V
50V-160V
48V System DC
72V-160V
72V-160V
72V-160V
72V-160V
Battery Voltage Automatic Recognition: 12V Battery
DC 9V - DC 15V
Battery Voltage Automatic Recognition: 24V Battery
DC 18V - DC 29V
Battery Voltage Automatic Recognition: 36V Battery
DC 30V - DC 39V
Battery Voltage Automatic Recognition: 48V Battery
DC 40V - DC 60V
Overcharging Protection Voltage
15V
30V
45V
60V
Limited Current Protection
31A
42A
51A
61A
Max Efficiency
≥98.1%
PV Utilization
≥99%
Protection Function
Temperature Protection
75℃
Fan-On Temperature
>45℃
Fan-Off Temperature
<40℃
Properties
Size(mm)
214×115×50
Net Weight(Kg)
1.1
Gross Weight(Kg)
1.2
Electromagnetic Compatibility
Accord To EN61000, EN55022, EN55024
Enclosure
IP21
Environmental Temperature
-20℃~+55℃
Storage Temperature
-40℃~+75℃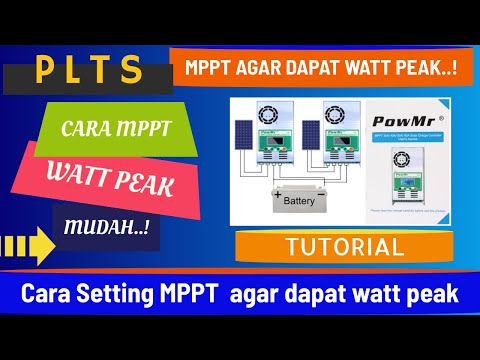 mppt solar charge controller Cara Setting MPPT PowMr agar dapat watt peak
Di vidio ini akan dijelaskan Cara Setting MPPT PowMr agar dapat watt peak
secara detail dan step by step.
Your rivals that rank higher than you in the Google top 10 for some of your target keywords are using video content. Try to embed a video on your page.